Photography is about telling stories, right? Well, a neat little app like Blurb Mobile make it's pretty easy to share those stories in a fun way.
About Blurb Mobile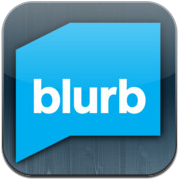 I first heard of Blurb a few years back when I was tossing around the idea of self-publishing parts of our Maui journal and blog as an actual book. While I never followed through on that, I saw Blurb Mobile pop up in the App Store and decided to check it out.
You can view the full feature list on their website, but here's the gist.
You create stories by adding photos, videos, and narration.
You can choose from different themes, and for each photo or video, you can add a caption to help tell your story.
Once you've finished a story, you can share it with the Blurb Mobile community, email it, or post to Facebook and Twitter.
Stories can be viewed on the Blurb Mobile website via links from those emails, Facebook posts, or tweets.
If it sounds a little too simple, that's because it really is.
Examples
Before I get to some of the limitations, here are a few links to see some of the samples I created earlier today.
You can also follow along with any other future stories I share from my profile page.
Viewing those stories above will give you a good idea of what the final output looks like, although I really haven't tried anything with video or narration yet.
Limitations
For starters, this appears to be a very new app, so I imagine that new features and updates will help close the gap on some of the items I'm about to list.
That said, for as easy as the app is to use, here are a few things I wish it had in it:
No ability to import photos from Flickr or Facebook – only photos from you Photo Library or Camera Roll.
Cannot add a custom message when posting to Facebook.
Stories are only viewable on the Blurb Mobile website – cannot embed them into your website or blog.
The app did crash once while creating my larger story (on first gen iPad) but when I restarted it, all my work was saved – phew.
Again, none of these are major deal breakers for giving the app a try, and I can't imagine any of them would be too difficult to incorporate in future updates.
Tried this App?
Have you tried out Blurb Mobile on the iPad or iPhone yet? Let me know what you think, and if you have a profile link or stories to share, go ahead and throw them in the comments below for others to check out.
– Kris