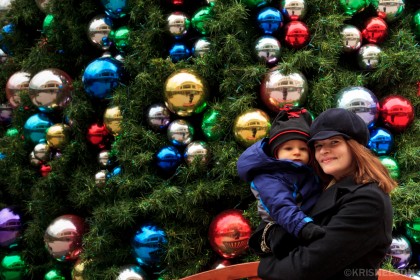 A great holiday image in front of a festive, decorated tree.
Back Story
As we try to do every year, we made our way to the mall on Sunday to start our holiday shopping before the madness begins after Thanksgiving.
While we were there, we spent about 10 minutes to shoot holiday photos in front of the 3-story tree they have in one of the courtyards. Even in such a limited time, I still managed to get a few keepers that are just itching to compete for the title of Holiday Card this year. We'll see how that goes, with so many candidates of our young family taken this year.
You can see more photos from Sunday in the new gallery page – Old Orchard Holiday, Nov. 2011
– Kris