Working through more posts from shoots at the end of 2012. This time it's from our annual holiday portrait shoot at the start of the holiday season.
Last Year
I thought it'd be fun to share the holiday portrait from the previous year as well.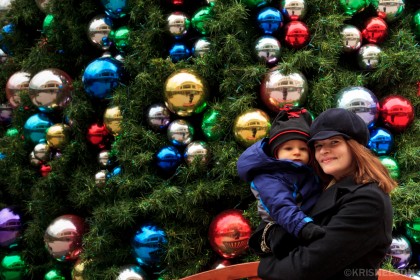 The Difference a Year Makes
The first year we did this photo shoot, our son was just about to celebrate his first birthday. Everything around him was still new, and his bond with his Mama meant he'd stay still in her arms a lot longer.
A year later, he's a lot more independent, and it has become difficult to get him to focus more than 5 seconds at a time.
The trick we've come up with to keep him smiling and giggling, is for me to run circles around him while he's being held, along with a little peek-a-boo as well. These photos prove it can be effective, and while it's fun for me, too, it's also exhaustive.
More Photos
See a few more photos from this mini-shoot in the Holiday Portraits, Nov '12 gallery.
[button link="http://www.krisnelsonphoto.com/galleries/holiday-portraits-november-2012/" color="#444″ text_color="#ccc"]View Image Gallery[/button]
As far as more catch up posts, four more to go and then I should be caught up. We did our first snow portrait session of 2013 yesterday, and I'll have a few of those shots on Facebook soon before the full shoot is posted here.